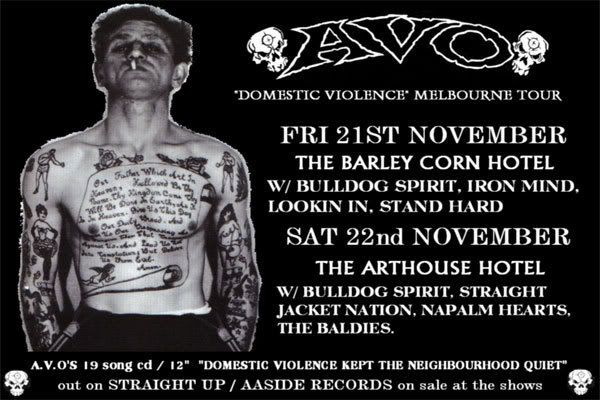 eelong 28/03/08
Awalnya dibentuk di Canberra dengan lineup dari Doug pada vocals, Adam pada gitar, bass dan Dekan di Cozzy pada drum, Bulldog spirit mereka merilis debut CD dan LP pada Brutus Records. Setelah masa tidak aktif dan gerakan anggota band, Bulldog spirit direformasi dengan lineup saat ini berbasis di Melbourne.
Member Since
5/6/2006
Band Members
Photobucket
Influences
Agnostic Front, Anti Heroes, Black Sabbath, Blood For Blood, Bonecrusher, Breakdown, Ceasefire, Combat 84, Condemned 84, Grim Reality, Judge, Killing Time, Knuckledust, Madball, Minor Threat, Negative Approach, Negative FX, Poison Idea, Retaliator, Rose Tattoo, Samurai Skinhead Spirit, 7 Seconds, Sheer Terror, Sick Of It All, Slapshot, The 4 Skins, The Trouble, Toe To Toe, Youth Of Today
Sounds Like :
"Think The Trouble, Sheer Terror, 86 Mentality, with a touch of mid period A.F heavyness/street/tough vibe, a lot of Slapshot "16 Valve Hate" era influence... and a distinct Aussie flavour."
- Luke "Crew" Dolan (The Dead Walk+++)
Record Label
: Trial and Error
Type of Label
: Indie
Akhir-akhir ini Bulldog spirit telah menulis bahan baru dan bermain di sekitar tempat dengan semua orang dari band-band lokal seperti marching Orders dan The Worst tourers internasional seperti dropkick Murphys dan Agnostic Front.