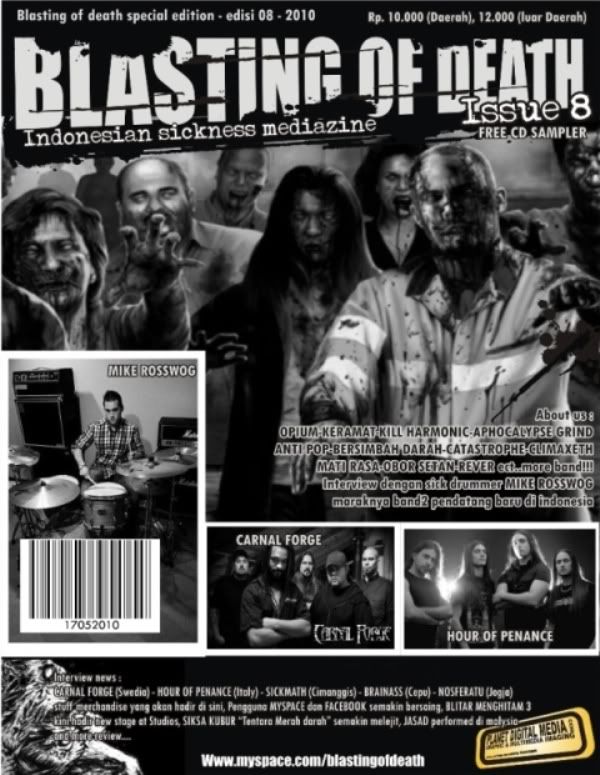 # CONTENTS PROFIL :
BEHEMOTH, GELGAMESH, SADISTIS, MORBIDDUST, QISHASH, PURGATORY, WAFAT, SUFFERGRIND, RAJAM, HELLBEYOND, OPIUM, AUTICED, BABI LIAR, APOCHALIPSE GRIND, ANTIPOP, BERSIMBAH DARAH, MATIRASA, FINGER IN THE THROAT, RADICAL ARTERY, CLAUSTROPHOBY, CATASTROPHE, CLIMAXETH, DEATH BASTILE, DEAD CARNATIONS, DEMONS DAMN, DISSOLVED, LOST ANOTHER, SEKARAT, STUDENT HATE SCHOOL, TORTURED, XTAB, VASOMORTUS, OBOR SETAN, CARRION OF UTERUS.
# SICK INTERVIEW :
HOUR OF PENANCE (ITALY)
CARNAL FORGE (SWEDIA)
MIKE ROSSWOG
BRAIN ASS (CEPU)
SICKMATH (CIMANGGIS)
NOSFERATU (JOGJA)
# SCENE :
BLITAR UNDERGROUND COMMUNITY
KOMUNITAS PINGGIR KALI ( KPK )
#GIGS REPORT :
PUTRID PILE – INDOGRINDNESIA #2
BRUTAL DIE INC. DEATHFEST #2
REVIEW,
ARTICLE,
PROMO
AND MORE!!!
*FREE CD SAMPLER (30 BANDS) + STICKER!!!
Deathline : 085696205666 (nchoz)
http://www.myspace.com/blastingofdeath
email: blastingofdeath@ymail.com
*FREE CD SAMPLERS :
1. APOCHALYPSE GRIND – PENGHUNI NERAKA YANG CELAKA
2. BRAIN ASS – SURGA HITAM
3. BERSIMBAH DARAH – MUNTAH DARAH
4. CARNIVORED – INFINITY DESTRUCTION
5. CATASTROPHE – MATI DALAM SUGESTI
6. CLAUSTROPHOBY – GETIH MANEH JANG URANG
7. CLIMAXETH – ICONOCLAST OV EXCOGITATION
8. DEAD CARNATIONS – BERBAGI NERAKA
9. DEATH BASTILE – PAMAPAG PATI PANANGTU AJAL
10. DEATH OF AUTHORITY – ELEGI BUNUH DIRI
11. DEVASTATION – JANIN SUCI
12. JAGAL – DANGEROUS TOYS
13.KILLER INSTINCT – HUMAN DISORDER
14. LOST ANOTHER – PERANG SUCI
15. NOSFERATU – LIDAH PANDORA
16. PLASMOPTYSIS – EDAN MANEH
17. RADICAL ARTERY – LIFE CRUSH
18. REVER – YOU KILLED YOURSELF
19. RITUAL OF BLEEDING – KORBAN PENINDASAN
20. SADISTIS – HALUSINASI MATI
21. SEKAR JAGAD – ENDLESS AGONY
22. SEPTICEMIA – I KILL U
23. SICKMATH – BUNUH YANG BERSUARA
24. SOCIAL BLACK YELLING – DISTURBANCE TERRITORY
25. STUDENT HATE SCHOOL – THRENODY OF MADNESS
26. TENGGOROKAN – FUCK THE BLASPHEMY
27. TORTURED – NARAPIDANA IBLIS
28. TOTAL ANAL INFECTION – BEAST THE BITCH
29. TOXIDEATH – AMPUTASI MORAL
30. XTAB – GOROK KURAGAJI