About THE INNOCENTS
The innocents was born in the end of 1999, in jakarta, indonesia. We had one album called "open up and what the hell are you looking at?", two double split with local bands (indonesia), compilation, and our new 2nd full length......we like to join a global compilation with others band in others country...contact us!!!
Header Banner Made with MyBannerMaker.com! Click here to make your own!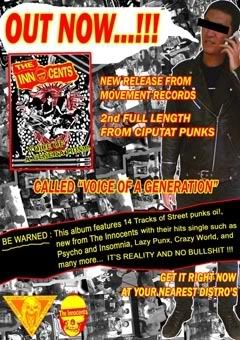 THE INNOCENTS: General Info
Member Since 24/06/2005
Band Website www.innocents.vze.com
Band Members (GDX - Drums) (THERE IS - Lead Guitars) (TATTOO'S - Bass) (STIFF - Vocals, Guitars)
Influences Oxymoron, The Adicts, Freiboiter, Ramones, The Partisans, Cocksparrer, Blitz, Stupidity, Street voices, Error Crew, Anti squad, and many more....
Sounds Like New Shit Punx in the end of 90's
Record Label Staypunk records, Blanks records, Movement Records
Type of Label Indie